TITLE: Captain America: Civil War
DIRECTOR: Joe & Anthony Russo
CAST: Chris Evans, Robert Downey Jr., Sebastian Stan, Elizabeth Olsen, Paul Bettany, Scarlett Johansson
GENRE: Action, drama, comic book movie
Marvel Studio's latest instalment is action-packed, wonderfully-written and GAHH!! SO MUCH ACTION!!
SPOILER ALERT!
Synopsis
Civil War is the third instalment of Marvel Studio's Captain America film series and it is dubbed as "Avengers 2.5". This film revolves around the rift between former allies Steve Rogers/Captain America (played by Chris Evans) and Tony Stark/Iron Man (played by Robert Downey Jr.). It all started when the government wants to enact the 'Hero Registration Act', a law where superheroes and people with superhuman magical abilities have to, in a way, be controlled by the government. This would limit the hero's actions as they could only act under the government's authority and approval.
Tony is for this registration act, while Steve is against it. Some of the other Avengers are now also divided. Team Iron Man consists of:
Tony Stark/Iron Man
Natasha Romanoff/Black Widow (played by Scarlett Johansson)
James Rhodes/War Machine (played by Don Cheadle)
Vision (played by Paul Bettany)
T'Challa/Black Panther (played by Chadwick Boseman)
Peter Parker/Spider-Man (played by Tom Holland)
…while Team Captain America consists of:
Steve Rogers/Captain America
Bucky Barnes/Winter Soldier (played by Sebastian Stan)
Sam Wilson/Falcon (played by Anthony Mackie)
Wanda Maximoff/Scarlet Witch (played by Elizabeth Olsen)
Clint Barton/Hawkeye (played by Jeremy Renner)
Scott Lang/Ant-Man (played by Paul Rudd)
Things get more complicated when Steve's childhood best friend, Bucky Barnes/Winter Soldier emerges. Now, the government wants to capture Bucky, so they send out Team Iron Man to catch him, while Team Captain America tries to save Bucky. Eventually, they all have to stop fighting and work together to defeat an even bigger foe, Baron Zemo (played by Daniel Bruhl).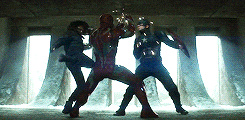 Vengeance, Vengeance, and MORE Vengeance!
The whole plot of this movie revolves around revenge. Zemo wants revenge because his family died at the hands of The Avengers (during the events that occurred in Avengers: Age of Ultron). T'Challa, prince of Wakanda, wants revenge because he thought Winter Soldier killed his father. Of course, at the end of the film, Bucky didn't kill T'Challa's father. But because of these revenge plots, our beloved heroes are mixed together in one intricate storyline that I find wonderfully-written. There are even jokes and gags thrown in a lot of scenes, which again, makes the movie so well-written! I appreciate that despite these friends are fighting against each other, there are still some ways they can make audiences laugh with their jokes and visual gags.
Fight Scenes and Action-Packed Stunts
One thing I love about Captain America: The Winter Soldier is the fact that if you strip away all the superhero comic book things, you'd still get a great spy espionage-style film. Most of it was because the fight scenes and the stuntwork were so amazing, that you can clearly see each intricate fighting movement unfolds beautifully. And Civil War is no different. You can see how each of the fight scenes are unpredictable and they're so good that it makes you feel like you're on the edge of your seat. The "Airport Scene" is the most well-performed and action-packed stunts in a movie that I've ever seen in a while.
MCU: Past, Present, and the Future
What I love the most about the Marvel Cinematic Universe (MCU) is the fact that it took them several years to slowly build up their superhero universe, starting with Iron Man in 2008 until 2016's Civil War. After many movies and a couple of TV shows under the same MCU umbrella, audiences are indeed satisfied because the "slow build-up" paid off. Besides, the MCU is ever-expanding with the upcoming release of Doctor Strange this November.
That is what I think the DC Extended Universe (DCEU) fails at. Over the course of four years (starting with the mediocre Man of Steel in 2013), they've already compiled everything together, which makes Man of Steel, Batman v. Superman: Dawn of Justice and Suicide Squad all equally-messy movies. If the DCEU takes their time SLOWLY building up their universe, I bet they'd be as successful as the MCU.
And another thing I love about the MCU that the DCEU lacks, the films and the TV shows are IN THE SAME UNIVERSE. They have one actor for each character. But DCEU film and TV shows are two separate things. They have two actors as Superman, two actors as The Flash, etc. Why? Why can't they all exist in the same universe? I bet if the films and TV shows are connected, they'd be as successful as the MCU.
Overall Thoughts
Overall, I love the storyline, the acting, the character developments and the action sequences. I sincerely hope Marvel Studios keep up this momentum and give full authority to Joe and Anthony Russo because frankly, they're both the saviours of the MCU. Sorry, Joss Whedon. You're still cool in my book.
Rating
4/5