Stranger Things is Netflix's latest original series, which stars queen icon, Winona Ryder as Joyce Byers, a mother searching for her missing son. An homage to the 80's pop culture, Stranger Things hit just the right mark and is easily one of Netflix's best original shows of all time.
Synopsis
Created by Matt and Ross Duffer, the series was rejected by 15 networks, before it was picked up Netflix. Maybe network execs thought a show that focuses on four kids looking for their missing friend is supposed to be "children friendly". But Stranger Things' storyline is ominously-chilling and the whole vibe of the show is eerie.
The show doesn't just delve into the disappearance of Will Byers. It also surrounds the sudden appearance of a girl named Eleven (played by Millie Bobby Brown) into the lives of Will's best friends; Mike (played by Finn Wolfhard), Dustin (played by Gaten Matarazzo) and Lucas (played by Caleb McLaughlin). These two plots eventually collide and secrets get uncovered, as Joyce and police chief Jim Hopper (played by David Harbour) work together to solve the mystery and find Will Byers.
Praising The Lovable Child Actors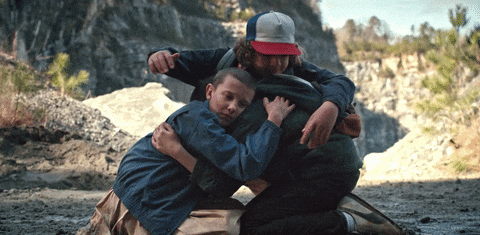 The four scene-stealers of the season are definitely Eleven, Mike, Dustin, and Lucas. These characters and their respective actors are forces to be reckoned with! Millie Bobby Brown's portrayal of the mysterious girl with telekinesis deserves a praise, considering what an absolute firecracker she is in real life! The kids are actual kids, all thanks to The Duffer Brothers' incredible writing and direction. The chemistry between them is also undeniable and their friendship certainly reminded me of the lead characters in Stand By Me.
Unpredictable Characters
When I watched the pilot episode, I thought Chief Hopper would be one of those stereotypical police chief characters, who doesn't believe in the supernatural and perhaps reluctant to take the Byers' case. But despite always drowning himself in alcohol and prescription meds, he's shown interest in finding Will and gets in too deep with the investigation. Hopper's character arc is interesting, as he's just a man who believes he's "cursed" and wants to find some sort of redemption.
Winona Ryder also gave her very best to play Joyce, a single mother of two, financially struggling to make ends meet. She dedicates the whole season trying to find Will, often not caring if other people think she's having a mental breakdown.
Love Triangle Done Right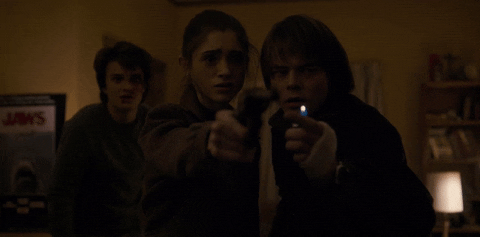 Stranger Things also managed to get away from the typical love triangle trope, where the nerdy guy always gets the girl from the popular jock. Joyce's oldest son, Jonathan Byers (played by Charlie Heaton) is an awkward loner, who only cares about finding his missing brother. Meanwhile, Nancy (played by Natalia Dyer) is a teenage girl wanting that teenage normalcy, by being in a relationship with popular boy Steve (played by Joe Keery). However, when Nancy's best friend, Barb, also went missing, she teams up with Jonathan. After realizing that he's being a jealous boyfriend, Steve also joins to help them. Thus, Jonathan and Steve fight the antagonist side-by-side, instead of each other to "win the girl".
Conclusion
The writing, the characters, and the acting are incredible. I love this precious show and I certainly cannot wait for Season Two next year.